Running through the heart of Lower Manhattan, Canal Street is a major thoroughfare that's lined with a mix of residential and commercial properties. This historic street cuts through Tribeca, SoHo, Chinatown, and the Lower East Side. Easily accessible by the subway system, Canal Street is perfectly configured for sightseeing tours in one of the most vibrant parts of the City That Never Sleeps.
Attractions and Sightseeing
Running through multiple neighborhoods in Lower Manhattan, Canal Street offers access to numerous cultural attractions. Located inside a former engine house that was built in the early 20th century, the New York City Fire Museum presents interesting exhibits on the history of the NYC Fire Department. This unique museum has firefighting equipment and other artifacts from the earliest days of the city.
As the name suggests, the Leslie-Lohman Museum of Gay and Lesbian Art celebrates artwork relating to the LGBTQ community worldwide. This niche museum is located in a stretch of Canal Street that's known for having a vibrant gay population.
Situated near the intersection of Canal Street and Lafayette Street, the Museum of Chinese in America tells the stories of Chinese immigrants in the United States. This museum is appropriately nested in the heart of Chinatown, one of the most populous ethnic enclaves in NYC. The street will also lead you to the Italian American Museum, which is located in Little Italy. This attraction is located in a historic bank that once catered to a large Italian population of Lower Manhattan.
The eastern end of Canal Street guides you to the Eldridge Street Synagogue. Having a Moorish Revival facade, this synagogue opened in the late 1880s. Today, the property hosts a small Jewish congregation and includes a museum with Judaica and other artifacts.
Canal Street defines a significant portion of Chinatown, which is home to plenty of small businesses that cater to recent immigrants from various parts of China. As you walk the busy thoroughfare, you'll notice lots of vendors who offer incredible bargains on clothing, shoes, accessories, souvenirs, and scores of other items. The sidewalks are also lined with grocery stands that include exotic products, which are quite ordinary by traditional Chinese standards.
Canal Street also defines the northern boundary of Tribeca, which is a chic neighborhood that has a vibrant nightlife scene. Cozy cafes and intimate nightclubs are abundant in this upscale district that's heavily gentrified. Canal Street marks the southern tip of SoHo, which includes the Cast Iron Historic District. This neighborhood has recently gained a great reputation in fine dining, high-end shopping and an active social scene.
History of Canal Street NYC
On the intersection of Centre and Leonard Street and stretching out about a block in each direction there once was a small body of water known as Collect Pond ("Collect" being an English corruption of the Dutch word "Kolch" meaning "small body of water").
Local residents drank from the pond until the late 1700's when pollution made the water unfit for human consumption. Collect Pond was once an idyllic retreat for the inhabitants of New York City, but too much pollution made it a cesspool of filth and lead the city to petition for its drainage. In 1808, out of fear that the pond was harboring disease, the city built a canal to drain it. Once the pond was drained, the canal was no longer necessary and the stench from it became so unbearable that the city covered it up.  Canal Street now stands as a landmark to where this canal once flowed.
Today, Canal Street is reminiscent of a foreign bazaar.  The backbone of New York City's Chinatown – its bustling streets are lined with outdoor markets where vendors clamor for attention as you pass.
Visiting Canal Street NYC
Starting off at the 6-stop subway station at the corner of Lafayette and Canal Street and making your way east, you'll be instantly bombarded with store after store selling cheap clothing, bags, and jewelry.
"Rolex, Luis Vuitton, Coach" vendors will whisper unassumingly as you pass. If you're interested, let them lead you to their underground stalls where you can peruse their merchandise of knock-off duds privately.  If not ignore them and continue forward. At the intersection of Canal and Walker Street is the Chinatown visitors kiosk, the unofficial starting point on any Chinatown tour.
The Southern end of Canal Street, heading East towards Mott Street is a home cooks mecca.  Here you will find meat and produce stands with prices better than you'll find anywhere else in Manhattan.  Expand your palate with some fresh boy Choy, lychee or hundreds of other exotic-looking fruits and vegetables.
A heads-up to tourists: visitors to Chinatown should heed the warning "caveat emptor" (let the buyer before).
The "bait and switch" is a favorite scam amongst many fruit and fish vendors in the area so make sure that what you see displayed on the table or rack is what is actually being put into your shopping bag. On more than one occasion I have arrived home only to discover that the fresh fruit I thought I bought had been replaced with last week's decaying produce.
On that same note, any bargains that seem too good to be true (i.e. a $50 authentic Louis Vuitton bag) probably aren't. At the intersection of Mott and Canal, keep an eye out for Yao's Dragon Beard Candy, if you see him, make a detour and grab some Traditional Chinese Sweets, if not continue on to Bowery, loop around to the South and continue exploring Chinatown.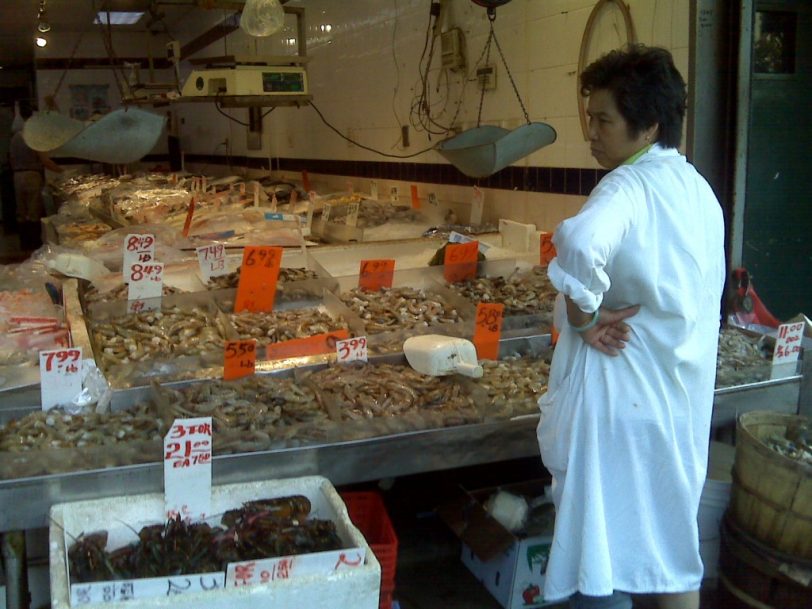 Location and Transportation
Carrying vehicle traffic heading eastbound and westbound, Canal Street is one of the busiest thoroughfares in Lower Manhattan. The western edge of this street merges with West Street, which spans the western perimeter of the borough. Connecting Manhattan with New Jersey, the Holland Tunnel has exit ramps that lead directly to Canal Street. This important street merges with the Manhattan Bridge in the Lower East Side.
The two-level suspension bridge has multiple lanes that accommodate vehicles, subway trains, pedestrians, and bicyclists over the East River. Of course, Canal Street is also easily accessible by rapid transit. The 1, 4, A, C, and Q lines are some of the New York City trains that stop in underground stations on Canal Street. Therefore, this thoroughfare is directly linked to virtually all major neighborhoods in Manhattan.
You can also take a Metropolitan Transportation Authority (MTA) bus to dozens of stops that are located on or just off this busy street. Part of a bicycle-sharing system, Citi Bike kiosks are easily accessible in the neighborhoods that are situated along Canal Street.