New York City pizza has a style that is known and respected, and that people around the country try to replicate. Making pizzas is a fine and precise art form, and the good people of New York City's pizzerias have been perfecting it for generations. They pride themselves on getting it just right.
What Is New York Style Pizza?
A good New York City pizza has crust that is thin and slightly charred but still light and chewy, flavorful bright red tomato sauce made of crushed tomatoes, chunks of melted mozzarella cheese, and is sprinkled with fresh basil leaves on top.
Most places offer white pizza too, with no tomato sauce but lots of ricotta and mozzarella cheese. They are stellar and sometimes a nice change from the norm.
New York City pizzerias usually offer a limited menu and a small number of toppings. This is not a bad thing. They do what they know and they do it well. It's best to just go with it. You will be wasting your time asking if you ask for pineapple or barbeque chicken on top of your pizza.
Notable New York City Pizza Restaurants
You can pick up a casual slice almost anywhere in New York City, but for the best pizza experience, pack into a cramped sit-down restaurant and savor your pie.
Grimaldi's Pizzeria – Brooklyn
You go to Grimaldi's as much for the experience as for the pizza. Located just one subway stop into Brooklyn, this small restaurant is extremely popular and extremely packed.
The restaurant works like clockwork – from the seating system that ushers people in and out to the cooks in the back whose speed and efficiency make it look like they were born to make perfect pizzas. An experienced team rolls dough, adds toppings, and cooks the pizza in a coal oven in true assembly-line fashion and in full view.
A word of caution – you may have to wait in line for up to 2 hours depending on the time of day and the season! So either go before you get too hungry or try an off-peak time like mid-afternoon or when they open at 11 a.m.
We've taken many guests here and all have enjoyed it, despite the wait and the fact that you have to sit practically on top of each other once you do get a table.
Grimaldi's is located under the Brooklyn Bridge. Combine your trip with a walk across the Brooklyn Bridge for outstanding views of the city and waterways.
Adrienne's Pizzabar – Lower Manhattan
Adrienne's Pizzabar in Lower Manhattan has a lively atmosphere, incredible sauce, and another novelty among pizza restaurants – they take credit cards!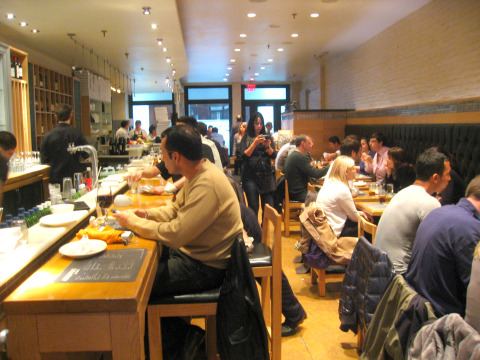 Initially, we were skeptical of this pizza that comes on a rectangular-shaped pan, bucking New York City pizza tradition of a round pizza cut into eight slices. Can we even call it a pie? We felt better after recognizing they remain committed to the thin crust rule and were quickly won over after tasting this saucy pizza.
Adrienne's is a narrow sliver of a restaurant on Stone Street, a cobblestone street in Lower Manhattan. In contrast to the historic location, the restaurant is vibrant and hip on the inside. It was busy and loud when we visited, which was at lunchtime on a weekday.
Lombardi's Pizza – Little Italy
Appropriately located in Little Italy, Lombardi's was founded in 1905 as the first pizzeria in the United States.
The pizza is fantastic. It has a great crust, fresh sauce, and delicious toppings.
Lombardi's has become our go-to spot for taking guests out for New York style pizza when we can't commit to going all the way to Brooklyn for Grimaldi's.
The restaurant doesn't look big from the outside but has many different rooms and even a downstairs dining area. The atmosphere depends on where you are seated, and ranges from average to good.
This corner restaurant is popular but has tons of seating so it can accommodate a lot of people at once. Because Lombardi's has so many seating areas, the experience is less hectic and rushed. In several visits, we've never waited long.
John's Pizzeria of Bleecker Street – West Village
This pizzeria feels the most like the back-home pizza places we remember, with booths to sit in and typical pizza joint decor.
The pizza is decent and we were quite pleased with the house salad. This place goes heaviest on the cheese of all the places listed.
Of the four pizza restaurants reviewed here, John's trails the others by a small margin, but the place scores big for atmosphere and location. It has charm and we like the interesting artwork that decorates the walls, all of which is for sale.
John's is located in the popular NYC neighborhood of West Village. It's a central spot and therefore conveniently located for many visitors. Plus the area is great to walk around in before or after you eat.
It gets very crowded with a line out the door on weekends, but we've been twice for dinner in the middle of the week and it was not crowded at all.
Essential New York City Guide Tips
1. New York City pizza isn't just delicious. It's also budget-friendly! See our other New York on a Budget Tips to help you plan your visit.
2. New York City pizza restaurants are notoriously cash-only. Of the places listed here, only Adrienne's Pizzabar takes a card. So come prepared!